Les belles feuilles (des Lilas)
du 14 au 24 septembre 2017



Exposition d'estampes et de livres d'artistes produits au sein de l'Atelier aux Lilas pour la Typographie et l'Estampe, réalisés par un collectif de 12 artistes issus de celui-ci, l'exposition présentera de nombreuses œuvres des participants, et comportera quelques moments forts :

- Vernissage le jeudi 14/09 à partir de 18h

- « L'effeuillage » : un grand nu sur papier recouvert d'estampes de petit format s'effeuillera au fur et à mesure des ventes de celles-ci

- Fête de l'automne le vendredi 22/09 à partir de 18h, avec des lectures de textes et de poèmes

- Le compostage (pot de clôture) le dimanche 24/09 à partir de 18h

Pour améliorer l'expérience sensorielle du spectateur, les artistes du collectif ont créé la playlist « Les Belles Feuilles » sur Deezer, téléchargeable ici : Les belles feuilles (des Lilas)

Pour en savoir plus, récupérer le dossier de presse de l'exposition et des artistes, cliquez ici




Les belles feuilles (Lilas Autumn leaves)
fom 14 to 24 September 2017



Art exhibition of prints and artist books produced in the Lilas' workshop, by 12 of its members, the exhibition will present numerous works of the artists, and include the following highlights

- Private View on Thursday 14 September from 6 pm

- The leaf-stripping: a big nude-painting covered of small prints will be unveiled as sales will occur

- The Autumn feast will be celebrated on Friday 22 September from 6 pm, with public lectures of texts and poems

- The composting party will close the exhibition on Sunday 24 September from 6 pm

To improve the sensual experience of the visitor, the artists from the collective created a playlist « les belles feuilles » on Deezer, available here: Les belles feuilles (des Lilas)

To know more, download the press kit of the exhibition or of the artists, click here





Ateliers d'Artistes de Belleville


19-22 mai 2017, Paris, France
14h-20h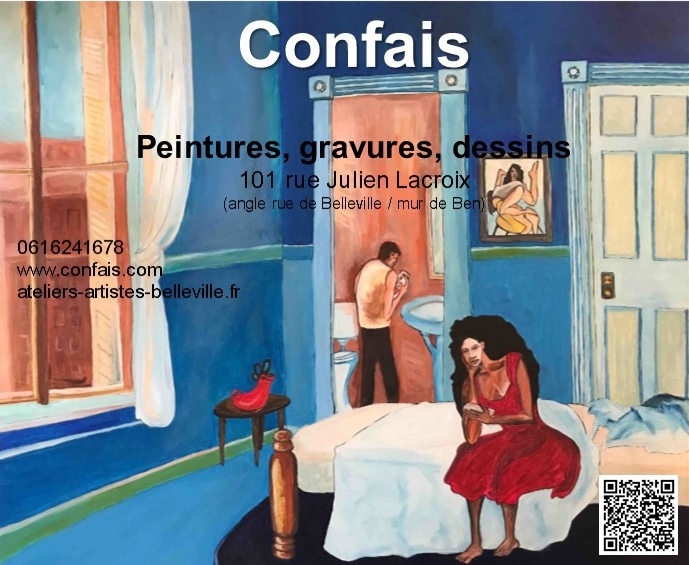 Retrouvez cette année encore 194 artistes, réunis dans plus de 120 ateliers pour un week-end festif et artistique dans Paris-Belleville, du 19 au 22 mai 2017. Je vous y attends en mon atelier
101 rue Julien Lacroix
75020 Paris
Vernissage le vendredi 19 mai à partir de 18h

M° Belleville - Pyrénées - Couronnes
http://ateliers-artistes-belleville.fr/les-portes-ouvertes/edition/
www.confais.com
open art workshops
19-22 May 2017, Paris-Belleville, France
2-8 pm
This year again, you have the opportunity to meet 194 artists, opening the door of more than 120 art workshop in the Belleville Village of Paris, from 19 to 22 May 2017. I will be pleased to welcome you in my workshop
101 rue Julien Lacroix
75020 Paris
Private view 19 May from 6 pm

Subway station Belleville - Pyrénées - Couronnes
http://ateliers-artistes-belleville.fr/les-portes-ouvertes/edition/
www.confais.com
L'expo réelle
Du 22 au 25 septembre
Art3F Bruxelles
Brussels Expo
Heysel Palais 4
Place de Belgique 1
L'expo virtuelle
Du 22 au 30 septembre
https://lexpodigitale.wordpress.com/

Plus d'info
confais@hotmail.com
www.confais.com
www.art3f.com
Exhibition for real
From 22 to 25 September
Art3F Bruxelles
Brussels Expo
Heysel Palais 4
Place de Belgique 1
The digital exhibition
From 22 to 30 September
https://lexpodigitale.wordpress.com/

More information
confais@hotmail.com
www.confais.com
www.art3f.com
Je participe le 5 juillet 2016 avec quelques artistes ayant fait don d'œuvres au profit de l'association Laurette Fugain à la vente de charité qui se tiendra à Paris, pour la recherche contre la leucémie.
N'hésitez pas à faire un tour si vous êtes disponibles ou à passer vos ordres par internet.
plus d'info sur
http://venteausangcher.com/

retour haut de page / top of the page
On 5 July 2016, with several artists having made a donation to the association Laurette Fugain, I participate to the charity auction that will take place in Paris to raise funds against leucemia.
Feel free to have a look there or to send your orders in the internet.
More information on
http://venteausangcher.com/